If you have lost all of your teeth, you will need full dentures on your upper or lower jaw; but if you have lost only a few, you can replace them with partial dentures or some artificial teeth.
Either way, wearing dentures means spending a lot of money. It is especially challenging when it comes to low-income families, children, elders, or people with disabilities.
Consequently, the US has "Medicaid," a federally administered health program that benefits the groups of people mentioned above. If you want to know more about how this program works, keep reading this article.
What is Medicaid?
Medicaid is a health insurance policy for people in need established by the government of former President Lyndon B. Johnson. It currently benefits more than 38 million people in the United States and is executed at a federal level; you will note that each state has different protocols and coverage.
Within the health program that Medicaid offers, there are dental care services (including denture costs support) depending on the state where you live.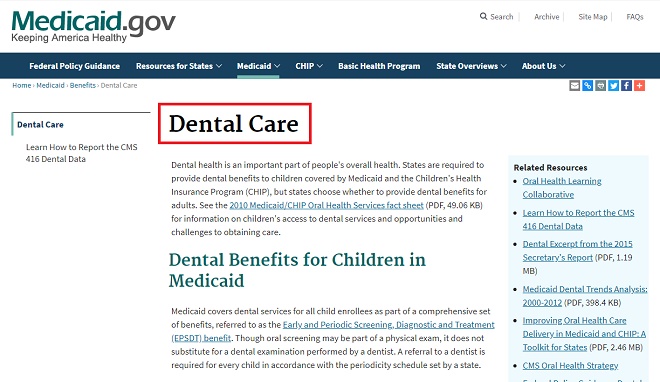 But, the most important question to know if the program can cover (partially or totally) the cost of dental prostheses is: In which state do you reside? Because only 37 of them cover denture expenses for their low-income residents.
If you qualify, you can request the benefits by contacting your local Medicaid office.
Denture Costs
When dentists explain all the work and special materials they need to make dentures for each patient, most people understand the reason for the high prices of dental services.
Despite this, it is very uncomfortable for anyone to need dentures and not be able to pay for them.
Basic dentures cost around a few hundred dollars, but they can even exceed $ 4,000 depending on the type of prosthesis the patient needs; these amounts can be a significant expense for many families.
The good news is that there are other ways to get good and affordable dentures for people with low incomes.
➡ READ ALSO: Open a bank account that no creditor can touch
Coverage
States that provide this service are: Alaska, Arkansas, California, North Carolina, Connecticut, North Dakota, South Dakota, Florida, Idaho, Indiana, Iowa, Louisiana, Maine, Massachusetts, Michigan, Minnesota, Missouri, Montana, Nebraska, Nevada, New Jersey, New York, New Mexico, Ohio, Oregon, Pennsylvania, Rhode Island, Texas, Utah, Washington, Wisconsin, and Wyoming.
But, it is important to note that there are some limits, even in the states that cover this service. For example, the California Medicaid office declares that it will only cover one prosthesis every five years, or one new line per year on each patient.
Difficulties
We have previously noted that approximately half of the states cover prosthetic expenses. So, if you live in one of these lucky states, search online for your local Medicaid office, and check the list of dentists that accept this program.
On the other hand, in this 2010 Medicaid Fact Sheet, we can find information about children's access to dental services and the opportunities and challenges for obtaining these benefits.
The procedure is easier when it comes to children, and not so much with adults.
Firstly, not all dentists accept Medicaid; it is a challenge to find one.
And secondly, they require exhausting administrative research as a consequence of the low levels of reimbursement and the high administration costs. They might ask you the reason to request the prosthesis, and even how long can you wait without it.
To sum up, we recommend those who need this service to search for more information through the official Medicaid page; it is important to know all the conditions before requesting this type of support.