Does anybody owe you money? Do you want to go to court to sort out the dispute? Why don't you write a demand letter to handle the matter on your own?
A demand payment letter notifies the company or the individual that you consider taking legal action against them. Most individuals have their demand letters written by a lawyer, but you can do it yourself.
To be sure you're not needed to have an administrative hearing the letter, check the regulations of the local or state courts where you're seeking to sue. So, here we will guide you on how to demand your hard-earned money without involving in any mess!
What is the Purpose of a Demand Letter?
You can use a demand letter for a variety of reasons. Maybe it's due to a defective product, your damaged property, car accident, landlord/tenant issue, breach of contract, or anything else.
You submit it to inform someone or a firm that people (or it) owe you payment and that you plan to pursue compensation.
The ideal result of a legal notice, said: demand letter is that when the party is warned repeatedly, they will pay you what you are owed, and you will never have to pursue the matter further. Avoiding the need to hire an attorney and resolving the matter outside of court will save you time, effort, and money.
A person or company may know that you owe them money but has put the matter on the back burner because they believe you won't pursue payment. In another way, it's not a deliberate unwillingness to pay. It's possible that they're ignoring you or that it's a low priority for them.
Of course, you have the right to collect what you're owed, but that's no excuse for not paying.
The second goal is to spell out precisely what you're owed and what you're looking for. If there is a factual disagreement, you may be able to reach an agreement without having to go to court.
What Is The Perfect Way To Write And Deliver A Demand Letter?
Write Your Letter On A Computer
If you don't have computer access, try to find one. You may ask a computer-savvy friend or go to your local library.
Concisely Review The Essential Points
Give specific details of the order in which they took place.
Be Courteous
Never make personal assaults on the other side of the argument. The more you attack, the more likely the other side is to retaliate. It lowers your chances of successfully settling the conflict.
Keep Your End Aim In Mind As You Write
 The letter should ask the opposite party to do a thorough examination of the disagreement and consider issues such as:
What are the chances of me losing?
How long will the defense take?
Would I want the argument to be determined in front of an audience?
Be Specific In Your Request
Don't spend your time unless you're looking for $2,000, for example. Make a request and describe how you arrived at this figure.
Establish A Deadline
Establish a timeframe for the opposite party to respond to your letter. Seven to ten days is the average wait time.
Conclusion Of The Letter
Conclude the letter by indicating that if the other party fails to meet your demands, you will take legal action as quickly as feasible.
Backup
Keep and maintain copies of everything. Before sending each letter, create a backup of it.
Keep Things Simple
Use ordinary and registered mail with a refund receipt request to send your letter. If the beneficiary refuses to sign the receipt, send it standard mail with tracking/delivery confirmation. You should copy all postal service receipts.
You could use a return receipt and delivery note to refute any allegation that the other respondent didn't even receive the demand letter if you land up with a small claims court.
Example of a demand letter
Here is an example that you can read to prepare your own letter: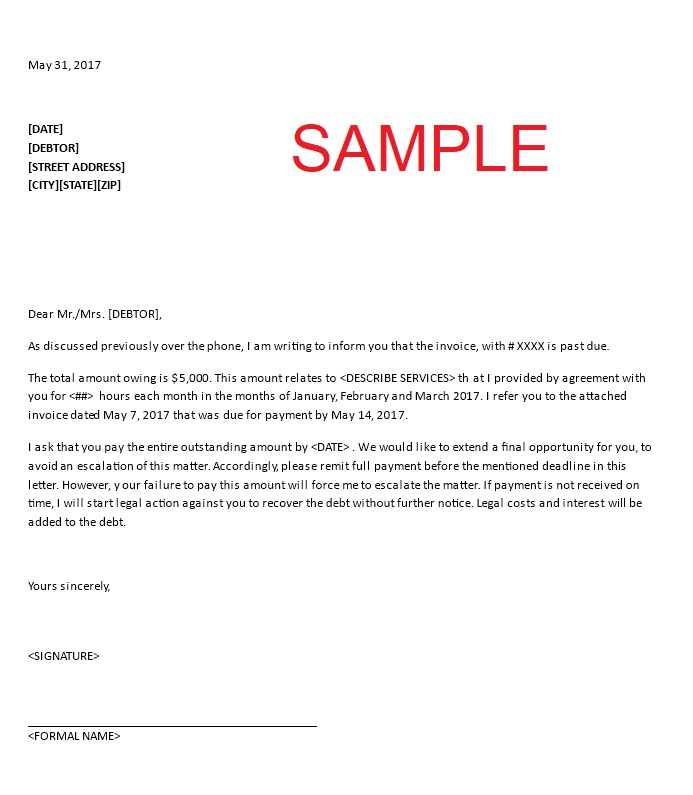 Our Summary
If anyone is hanging with your money, you can write a demand letter for them. If you're confused about what to write in a demand letter, how to frame it, or whether you're developing a valid and convincing case, you can simply read this blog post.
In this guide, for your ease, we have briefed on a demand letter and its pattern that you can follow to write for a company or anyone else.