Currently, there are a large number of websites that offer tools from calculators that help you estimate how much you could pay in taxes, to more specialized software services that provide you with personalized advice to fill out your tax returns. Intuit is a financial software company and one of its star products includes TurboTax, an application that offers tax preparation. It is one of the best options on the market and that is why many websites offer discounts on TurboTax.
When filling out the forms and paying taxes, it is always a good option to have the advice of someone with experience in this matter. This way, we will avoid making mistakes and apply the deductions and exceptions correctly (if applicable).
If you want to know more about this application, keep reading and discover how to use and get a discount on TurboTax.
What is TurboTax?
TurboTax is one of the most popular tax preparation software that exists in our country. Their services range from completing your returns by yourself to the live assistance of a tax specialist who helps you in your process, or they even offer you the possibility of having one of their specialists fill out your tax forms for you. Obtaining a discount on TurboTax can be very beneficial for you if you want to use this program and the way to get it is very simple.
Before using this program you must know how it works so that you will know if it is the best option for you.
Understanding TurboTax
As you already know, this is a program designed to offer accompaniment services when filling out your tax returns, but surely you will be wondering how a page that does not belong to the services of the IRS or state departments can offer such a service.
Perhaps you have used or heard about the Free File Program provided by the IRS. It consists of a series of agreements that the IRS has made with various software providers to offer the service of completing tax returns over the internet. Only companies authorized by the IRS can fulfill (in a certain way) the functions of the IRS related to filing and paying taxes.
The good news is that TurboTax has entered into an agreement with the IRS and belongs to the Free File program, so it is safe for you to use it.
Once you decide to use it and register on its page, you will have to answer a series of questions that will directly affect your tax returns. For example, you must indicate if you are married, if you have children, how many jobs you have, and how much income you obtained in the fiscal year.
All of these questions are related to the things that influence the amount you must pay and the possible deductions and credits that you have in your favor. It is even possible to attach a photo of your form and send it when answering the questions.
Once you answer everything, the software will calculate your taxes. Thus, it will do all the calculations for you and apply all the credits and deductions for which you qualify and at the end, you will see a "final review" and if everything is correct, your forms will be submitted.
As we mentioned above, TurboTax is the most used software currently, so if you are wondering about either working with it or not based on its reliability, we can infer it is very trustable. In addition, their questions are formulated to find the right form for you depending on your specific case.
READ MORE: How to file a business tax extension?
Do I have to pay for using TurboTax?
As part of the agreement with The IRS, TurboTax offers a free option for people with income under $ 39,000.00.
However, like any private software, they also have options that offer more personalized services, such as maximizing property tax deductions, in exchange for the payment of a fee that can be from $ 60 to $ 120 $.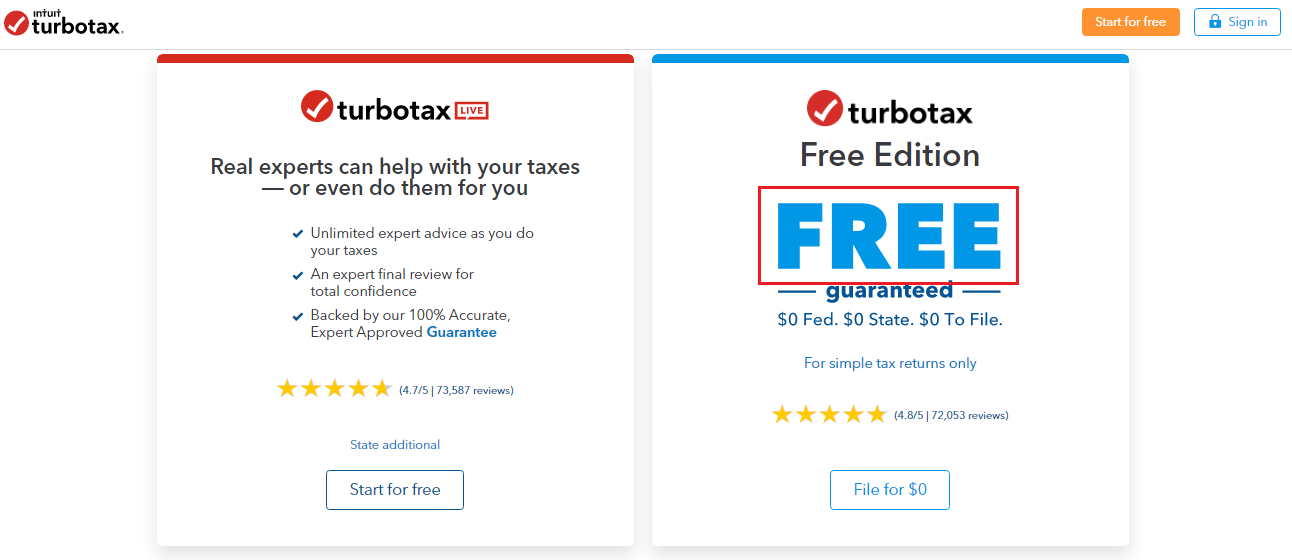 However, there is good news! You can use discount coupons and pay a lower price while still receiving the same benefits.
Discounts on TurboTax
On many internet pages you can find discounts to use TurboTax, in the following lines we collect some of these options for you:
Forbes: On this page, you will find discount coupons of up to $ 20 for TurboTax, as well as information regarding the use of this platform.
Fidelity: It is a platform that also offers services related to finance, although they are not only dedicated to taxes. Its main objectives are to provide support in financial strategies to companies to boost their growth. By having a Fidelity account, you can get discounts on TurboTax.
Cnet.com: This website offers a wealth of information regarding up-to-date news on marketing technology and science. They also offer discount coupons on TurboTax, although they may charge a fee to get the discount through their page.